In 2006, Brandon Rogers, who recently graduated from Florida A&M University decided to cross the Atlantic to Ghana in search for a better life. Working as an architect in Ghana Brandon soon turned his interest toward sustainable building techniques and over the next ten years he earned a reputation as a very capable architect and builder completing projects for non-profits and individuals. 
In 2016, Eric McNeal decided to cross the Atlantic and relocate from the US to Ghana West Africa where DNA tests showed his ancestors originated from. The goal was to build a sustainable off-grid home there. As fate would have it, Eric saw a video online of a sustainable earthbag home built in Ghana by Brandon. After arranging a meeting with Brandon and discovering that they both graduated from Florida A&M University, he contracted Brandon to help him find land, design his home and to begin the building process. The original plan was to have Brandon begin the project so that Eric could finish it on his own. However, after spending a day on the worksite with Brandon and his team of builders, Eric knew that the best option was to allow Brandon's company, Migrating Culture to complete the entire home. About a year and a half later, Eric's earthbag home was ready.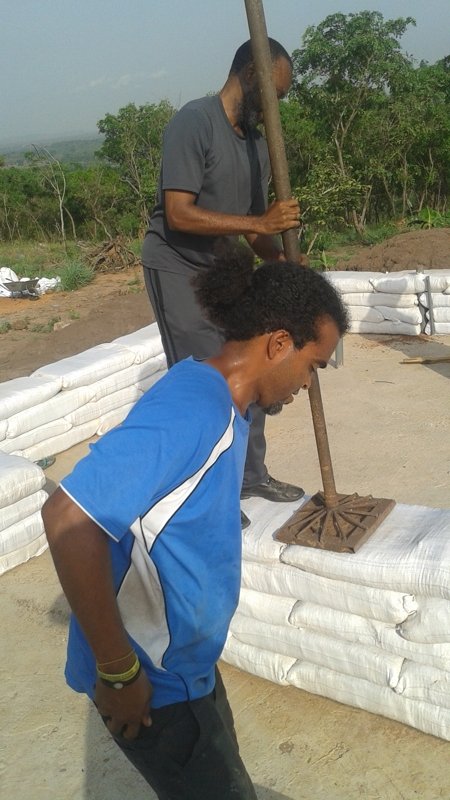 Brandon showing Eric what it took to build an earthbag house. -2017
After being extremely impressed by Brandon's ability to bring his dreams to life, Eric suggested that Migrating Culture should build an entire sustainable community and help others to realize their dreams by making it easier for them to cross the Atlantic and relocate to Ghana. Brandon convinced Eric to join him on this endeavor and the two developed a plan to create Africa's largest sustainable community known as Migrating Culture Crossing. 
Eric's off-grid sustainable home in the deep mountains of Ghana, West Africa built by Migrating Culture
Earthbag Chalet in the mountains of Aseseeso built by Migrating Culture